Light and fluffy frosting that is entirely dairy free! Whipped coconut cream makes it possible to eat your cake and the frosting too – all without dairy.
VIDEO: How to Make Coconut Cream from Coconut Milk
This updated post was originally published in August 2015.
Oh yes indeed, you read that right! Dairy free whipped cream is totally possible.
Whether you are lactose intolerant, vegan or paleo, this is a great & simple way to frost desserts or even top drinks with.
How to Make Whipped Coconut Cream
A little bit of planning ahead is required when making coconut whipped cream. The basis is a can of coconut milk that has to be refrigerated for 1-3 days.
If you ordered the cans online, you'll first want to give them a rest in the pantry for about a week before moving them to the fridge. Even store-bought cans that got shaken up during the transport home benefit from a 24 hour rest period before refrigeration.
While in the fridge the lighter full fat coconut cream separates from the water and solidifies at the top of the can. Once you open the can the cream can easily be scooped off with a spoon and whipped into luscious airy clouds of heaven.
Use the remaining watery liquid at the bottom in your next smoothie.
Unfortunately, this separation does not occur with some brands of coconut milk. Especially if they use emulsifiers that are added to prevent separation.
I used to have most success with Thai Kitchen brand (back in say 2014/15), but not anymore. Instead, I now look for coconut milk brands that list coconut (extract) and water as the only ingredients.
Since we lived in Thailand I am especially impartial to Aroy-D brand. It was the most common brand there and being able to get it here as well makes me almost nostalgic.
Also, their coconut milk and cream is very reliable for making coconut whipped cream successfully.
Can I use Canned Coconut Cream instead of Coconut Milk?
Yes, absolutely!
When I first published this post (in 2015) coconut cream wasn't too widely available in Canadian stores. If I could find any, it was usually tiny 4 ounce cans.
Now that normal 14 ounce cans of coconut cream are much more common, I actually prefer using that for making whipped coconut cream.
The process is still the same. You still need to refrigerate the canned coconut cream because it still contains water that needs to be separated from the full fat coconut cream.
The benefit over using coconut milk is that there is much less water in coconut cream. So each can yields as much as twice the amount of whipped coconut cream.
The other benefit is that coconut cream usually doesn't harden as much as coconut milk when it separates. Sometimes barely any whipping is necessary to make light, fluffy whipped cream.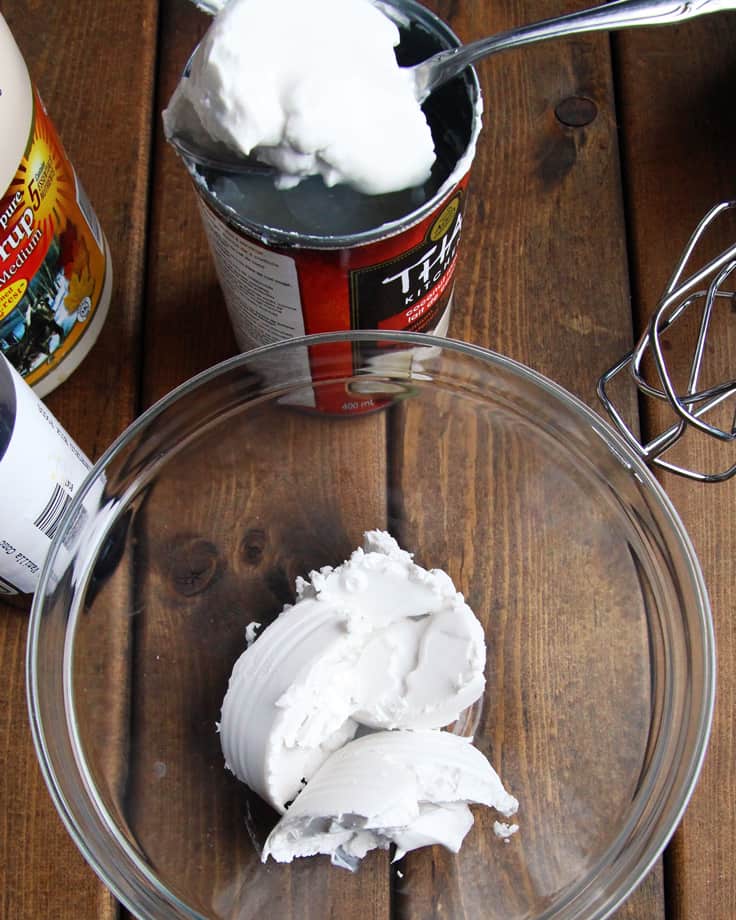 What brands of coconut milk make the Best Whipped Coconut Cream
As mentioned above, any brand that uses nothing but water & coconut (extract) is your best bet!
Aroy-D coconut milk or coconut cream is my favorite. They even make an organic version
Another good one is Savoy
In Canada I also like Real Thai brand
– It's the brand I used in the video below. (Don't order it online if you are in the US – the price is outrageous. I am only linking it so my Canadian readers can see what the cans look like and find them in their stores)
How To Use Whipped Coconut Cream
On EVERYTAAANG!!
Your imagination is really the only limit. Wherever you would typically use whipped cream you can use coconut whipped cream instead.
1. My favorite uses are as simple healthier cupcake frosting. It's one way to turn healthy muffins into fancier cupcakes worthy for a party.
For that I chill my reusable piping bag and a large star tip before filling in the whipped coconut cream frosting. Work fairly quickly when piping the frosting so that the warmth of your hands doesn't melt the coconut cream.
2. If strawberries and cream is a dessert you used to enjoy, now you can make strawberries and coconut cream!
3. And finally, whenever I make a healthier version of frappes I like to top then with coconut whipped cream.
How to Flavor Coconut Whipped Cream
You can use almost anything to flavor and sweeten coconut whipped cream. Again, just use your imagination!
I usually just use a little sweetener (like maple syrup, but you could also use a powdered sweetener) and some vanilla extract for flavoring.
As sugar-free sweetener alternative I recommend monk fruit syrup or powdered sweetener.
Feel free to use any other flavor extracts, or ground spices. How about muddled fruit like strawberries, lemon/lime juice, or even caramel sauce?!
Cocoa powder or melted cooled chocolate would be awesome to make whipped coconut cream chocolate frosting.
Mmm…chocolate + coconut. Yum!
How to store whipped coconut cream
Whipped coconut cream needs to be stored refrigerated – unless it is winter and your kitchen is quite cold. I recommend topping desserts or drinks only right before serving.
Until then you can make ahead the whipped coconut cream and store it in the fridge until ready to use.
If you happen to have any leftovers, they can be stored refrigerated for a day or two. After that I freeze it in ice cube trays.
The coconut cream cubes can be used in smoothies, or thawed in the fridge and then rewhipped for another time.
More Tips for Making Whipped Coconut Cream
If you want to get even more nerdy and learn nearly everything there is to know about full-fat coconut cream (the thick creamy stuff you can isolate from the top of either coconut milk or cream) you HAVE TO read Ashlae's post over here!!
She's really got it down to a science!
Whipped Coconut Cream
Whipped Coconut Cream makes a delicious dairy free frosting thats is also vegan, paleo friendly and clean eating.
Ingredients
1

can (14 oz)

coconut milk or coconut cream*

chilled

1

tablespoon

maple syrup

or other (sugar-free) sweetener to taste

1

teaspoon

vanilla extract

optional: other flavor extracts

ground spices (like cinnamon) or cocoa powder
Instructions
Chill the can of coconut milk for 1-3 days. The full fat coconut cream will separate from the water in the coconut milk or coconut cream. It will accumulate at the top and harden.

Before opening the can, chill a bowl and the beaters of your mixers for about 1/2 hour. Open the can and scoop out only the hard coconut cream that should have settled on top**. Add the hardened cream to your chilled bowl. The remaining clear liquid can be used in, baking, smoothies, or discarded.

Using a hand mixer, whip the coconut cream with maple syrup, vanilla extract and other optional flavors until fluffy.

The whipped coconut cream should be stable enough to ice cake or cupcakes with. You can even fill it into a (chilled) pastry bag with piping tip, to frost cupcakes with fancy swirl patterns.
Recipe Notes
*Best results are brands that list only coconut (extract) and water as ingredients
**Unfortunately, with some brands of coconut milk this separation of cream and water does not occur. 
Products used to make this Whipped Coconut Cream Recipe:
---