Even simple Oreo cookies can be turned into decadent truffles with a fine white chocolate shell. These are made without cream cheese, using sweetened condensed milk or buttercream frosting in the filling instead.
About These White Chocolate Oreo Truffles
I told you already that Oreo cookies were widely available everywhere we went in Southeast Asia. I was already on a candy roll with the Banana Chocolate Truffles when I remembered something:
A while ago I had seen Heidi from Bits of Sunshine make cake pops from Oreo cookies and even shortbread cookies. That somehow was a revelation to me. I had never thought of using anything but crumbled cake to make cake pops. (And I have to admit, I am not a super huge fan of that mushy texture).
So, I just had to try to see if I like the texture better with cookies – and indeed I do! The consistency is denser and almost chewy, and I just LOVED them. When I say I "had" to "try" to see if I liked the texture better, it also had to do with the fact that, as we all know, I LOVE chocolate and, well, this was just another excuse to eat more chocolate!
I was in Vietnam at the time I made these and didn't feel like going on a crazy hunt to find popsicle sticks, so I made truffles instead of pops.
How to Make White Chocolate Oreo Truffles
To make the truffles I first crushed the Oreo cookies. I didn't have a food processor, so I put them in a baggie and crushed them with a rolling pin. However, it would be much quicker with a food processor. The Oreos should look like fine crumbs.
Making the Truffle Mixture
I mixed the cookie crumbs with 3 tablespoons of sweetened condensed milk, just because I had an open can. I just stirred them together with a spoon, but you can also use an electric mixer or stand mixer with paddle attachment for this step.
You can be creative with the binder you use. If you have some buttercream, use that or try different flavors of coffee creamer. Start with 1 tablespoon and add more as needed (it's always easier to add than to take liquid away). Some also like to use softened cream cheese as binder.
Once the mixture resembled cookie dough in its consistency, I rolled it into truffles. As a rule of thumb, one Oreo cookie will make about one 1-inch truffle. So, 12 Oreos resulted in 12 truffles for me. I placed the truffles on a lined sheet and put them in the refrigerator for about an hour. If you want to speed up the process, you can them in the freezer for 10 minutes or so before eating them as a snack or dessert.
Dipping the Truffles
Then, I dipped the truffles in melted white chocolate (a fork is my favorite dipping tool) and drizzled some dark chocolate over the tops. You can use any white chocolate you like such as baking chocolate, a chocolate bar, chocolate chips, or even candy melts but a higher quality white chocolate will yield the best results.
For dipping the oreo cookie balls, using a deeper bowl with limited width is ideal as it will allow the chocolate to have more depth and make it easier to dip and coat the truffles. Any excess chocolate can be reserved in the fridge for another day, and then melted to reuse. You could also spread it on a parchment paper lined baking sheet and sprinkle it with toasted almonds for a homemade almond bark or with some peanuts and a drizzle of melted peanut butter for a white chocolate peanut bark.
Just because it is so warm in Vietnam, I kept the truffles in the fridge, but the sweetened condensed milk binder hardens quite a bit. Therefore, I let them sit at room temperature for a short time before serving them.
Serving and Storing the Truffles
After making these oreo balls and looking back at the pictures, not only do they taste great—they look great! Aren't they pretty? They'd probably be great for your next party or holiday treat! These oreo truffle balls also make a wonderful gift. Simply place the truffles in a pretty container, like Christmas cookie tins, lined with parchment or a paper doily, to have as a beautiful gift for family or friends.
If you tried out this recipe, what did you think? Did you make any changes? Share your thoughts and pictures with me!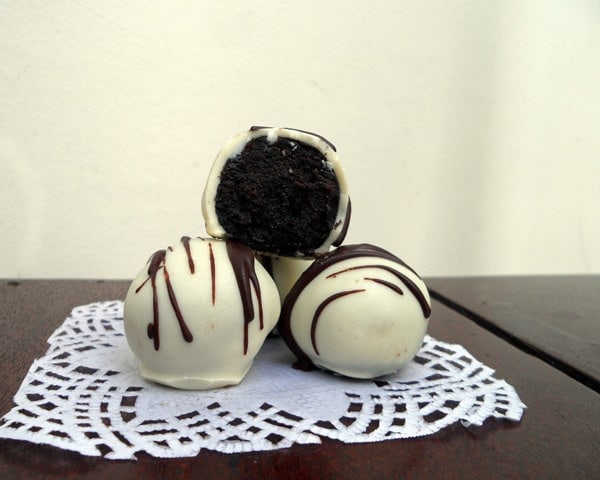 Oreo Cookie Truffles
Even simple Oreo cookies can be turned into decadent truffles covered in a fine white chocolate shell.
Cook Time
1
hour
15
minutes
Total Time
1
hour
15
minutes
Ingredients
12

Oreo cookies

3

tbsp

sweetened condensed milk

or any kind of buttercream

3.5

oz

100 g white chocolate

2

squares dark chocolate for drizzling
Instructions
Crush the Oreo cookies in a food processor into fine crumbs. Stir in sweetened condensed milk (or buttercream) until it has a cookie dough-like consistency.

Roll the mixture into 12 truffles (1 cookies makes 1 truffles) and place on a lined baking sheet. Place truffles in the fridge for about 1 hour or freeze for 10 minutes.

Melt the white chocolate on top of a double boiler or in the microwave. Dip the chilled Oreo truffles into the melted chocolate using a fork or dipping tool. Place back onto the lined baking sheet.

Melt a little bit of dark chocolate and drizzle over the White Chocolate Oreo Truffles.

You can keep the truffles in the fridge but bring back to room temperature before serving. Truffles with sweetened condensed milk are quite hard when chilled.
Looking for more truffles or bite-sized snacks?
Chocolate Banana Truffles are a great way to use up an overripe banana.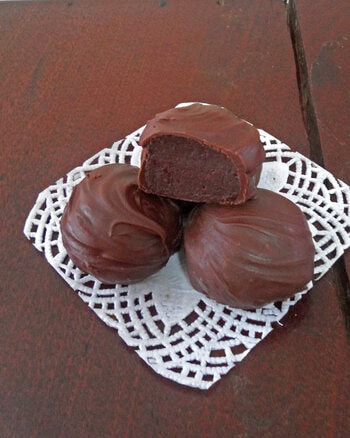 Chocolate Dipped Banana Peanut Butter Bites