This Cheese and Onion Cornbread is a traditional Paraguayan dish. It is fantastic served warm alongside a meal or as a snack on its own!
About Sopa Paraguaya
After sharing a number of recipes inspired from our Paraguay trip a few weeks ago, I have one more gem to share with you. And this one is the most Paraguayan of them all!
This cheesy, savory cornbread is called Sopa Paraguaya. Now, if you have the slightest Spanish knowledge this will utterly confuse you – because this cornbread looks definitely like bread and not a Paraguayan soup at all! Sopa paraguaya comprises corn flour, cheese, butter, milk, eggs, and more, resulting in a tasty, slightly sweet, and golden bread to have with a main meal or as a snack warm from the oven.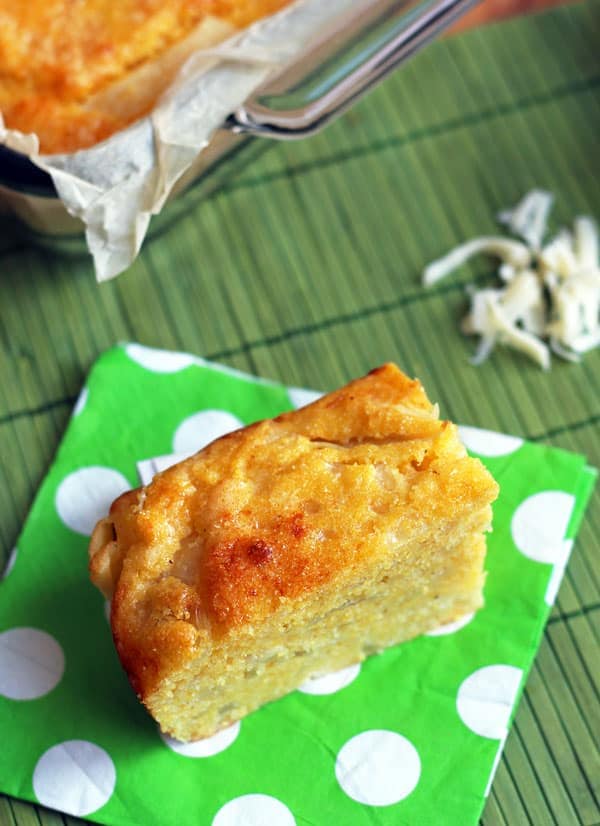 A Fascinating Backstory To This Dish
There is a legendary story about the origin of sopa paraguaya (Paraguayan soup) and name dating back to the founder and first president of the Paraguayan state. One day, his cook was preparing one of his favorite meals, a soup of cheese, onions, eggs and corn flour.
By the time it was too late to start over, the cook realized she had added too much corn flour. In an attempt to salvage the dish and have something ready to serve, she baked the thick 'soup'. Her employer was delighted with the result and named the dish 'Sopa Paraguaya'.
Another explanation goes on to say that the first European settlers were calling a dish the natives prepared in clay pots 'soup'. 'Paraguaya' was a distinguishing adage in order to tell it apart from the liquid soup Europeans made.1
Local Cuisine and Making Your Own Version
Either way, this is a very popular and common food in Paraguay. We found it for sale as snack food right alongside empanadas pretty much everywhere. It's so fun to find local cuisines like this while traveling. That's one of the best parts about visiting different countries; that is, finding delicious authentic recipes and learning how to make them yourself.
The texture of this cornbread is denser and not fluffy like the North American cornbread due to the addition of cheese. Many people in Paraguay make their own cheese, which is like a white Farmer's cheese. For this adapted version, I use a mixture of cottage cheese and any kind of grated, mild cheese.
How to Make Sopa Paraguaya
To begin making the sopa paraguaya, you can start by preheating the oven to 350 F. The temperature is great for ensuring that the bread bakes through without becoming overly browned on top.
Like other cornbread recipes, a cast-iron skillet is a wonderful baking vessel because it conducts a lot of heat so that the bread forms a nice crust. You can melt the butter in the skillet over medium heat until hot and then add the sliced onion to sweat and soften them. If you don't have a cast-iron skillet, you could use another ovenproof skillet such as stainless steel instead. In this case, though, you may want to line the bottom of the skillet with a round of parchment paper since stainless steel pans don't tend to be as non-stick as cast iron ones, which have undergone seasoning. Otherwise, if you don't have an ovenproof skillet at all, you could cook the onions in another skillet before mixing your batter in a bowl and transferring it to a baking dish. The baking dish should be 8 x 8 inches in proportion.
Once the onions have cooked, you remove the pan from the heat and stir in the cheeses and wet ingredients. These include the grated cheese, cottage cheese, milk, and eggs. For the grated cheese, a mild-tasting one will work perfectly well. The residual heat from cooking the onions will help the cheese soften and incorporate into the batter sufficiently. The next step is to stir in the dry ingredients including salt, baking powder, and cornmeal (corn flour) until smooth before baking.
How to Test for the Cornbread's Doneness
If you used a cast-iron skillet to make the sopa paraguaya, you can simply pop it into the oven to bake through. The Paraguayan cornbread will require a total bake time of 45 to 60 minutes until golden brown and set. To test for the bread's doneness, you can insert a skewer into the middle and pull it out to determine if the crumbs are wet or dry. A few dry crumbs will indicate that the bread is cooked through, but some doughy crumbs or wet batter will show that the bread needs more time.
How to Serve the Sopa Paraguaya
Like any cornbread recipes, this cheese and onion cornbread would be perfect to eat on its own for a snack, especially not long after it has come out of the oven. Since it is quite rich with plenty of cheese, you won't have to spread it with any butter before eating it.
Another way to serve the sopa paraguaya would be alongside your favourite meat and salads for a summertime feast or alongside a bowl of soup or chili. Either way you choose to enjoy it, this bread may become a staple in your kitchen due to the savoury elements of cheese and onion.
Sopa Paraguaya – Cheese and Onion Cornbread
This Cheese and Onion Cornbread is a traditional Paraguayan dish. It is fantastic served warm alongside a meal or as a snack on its own!
Ingredients
1

large

onion

sliced

1/4

cup

butter

1

cup

grated cheese

any mild variety

1

cup

cottage cheese

1

cup

milk

5

eggs

1

teaspoon

salt

1

teaspoon

baking powder

2

cups

corn meal
Instructions
Preheat the oven to 350°F.

In a large pan (can use a cast-iron skillet) melt the butter on medium heat and soften the sliced onions for 3-5 minutes.

Remove pan from heat and stir in grated cheese (it will melt), cottage cheese, milk and eggs.

Sprinkle with salt, baking powder and corn meal and stir to combine everything.

If you used a cast-iron skillet bake the corn bread right in there, otherwise transfer the batter to a lined 8-inch square baking dish. Bake for 45-60 minutes until top is golden-brown.
Nutrition Facts
Sopa Paraguaya – Cheese and Onion Cornbread
Amount Per Serving (1 slice (out of 9))
Calories 313
Calories from Fat 144
% Daily Value*
Fat 16g25%
Cholesterol 124mg41%
Sodium 515mg21%
Potassium 291mg8%
Carbohydrates 30g10%
Protein 13g26%
Vitamin A 492IU10%
Vitamin C 1mg1%
Calcium 181mg18%
Iron 2mg11%
* Percent Daily Values are based on a 2000 calorie diet.
1 Source of both stories: Wikipedia
Other Recipes You Might Enjoy
Check out these similar recipes!